Post by Lucia on Jun 28, 2017 14:55:17 GMT 1
To help sell your scoot - images will boost the success of your sale - without images, people will soon turn off, so here's a little help if you're not familiar with how to post photos:
Because of the way the forum was built, inserting photos 'the Facebook way' takes up server space, so, as this is a free forum, the best way is to sign up to a photo sharing site such as
www.photobucket.com
or
www.dropbox.com
.
Once you've started a new thread, or post, and are typing in your text, when you arrive at the bit to insert your photo/image, click on the photo icon in the ribbon below:
Then go over to your photo sharing website (dropbox/photobucket etc) and copy the image 'url' text.
Then paste the url text back into this forum where you left off. In the field 'Image URL'.
Alt text isn't necessarily needed, it's more to help the search engines identify what the photo is 'about' in case the image doesn't load up and leaves a photo placeholder gap instead - some people will type in a small description, such as 'PX125 in the driveway' or 'at the Morecambe rally' etc - leave it blank if you don't want to write any text.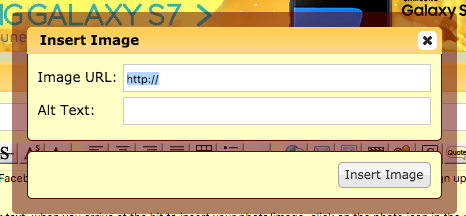 and your photo will then display AFTER you have finished creating your thread 'Create Thread' button.
Hopefully that's explained as simply as possible?